This is for all of you out there who own a 2.4 and are wanting a one stop shop about the Intakes out there available to you right now.
For additional performance and power K&N has developed a high flow air intake system (69-2542TS) with a powder coated silver finish for the 2008 and 2009 Dodge Avenger with 2.4 liter engine. K&N dynamometer testing shows a 9.37 horsepower increase at 5368 rpm. This is a great power gain for the naturally aspirated four-cylinder engine. The OEM intake created a large amount of restriction that the K&N design reduced for added power.
K&N performance air intake system 69-2542TS installed on a 2008 Dodge Avenger
http://www.kandn.com/dynocharts/69-2542_dyno.pdf
click this link to see the dyno chart.
Next we have the Weapon R!!! This kit comes as a short ram intake or with cold air extension.
http://www.weapon-r.com/products/files/manuals/307-182-101.PDF
and here is a link to some pictures of it on the vehicle
Key Features:
Feeds 3 times more air to the engine
Fully equipped with all hoses and clamps for installation
Mandrel Bent 6061 T6 Aluminum Intake Tubing
1 Million Mile Limited Warranty
Smooth polished design
Polyeurethane Protective Foam
The Secret Weapon Intakes were created by Weapon-R to multiply air intake volume to the engine. The key element is a system of two different air velocity profiles, which are moving at different speeds. Such an approach allows to increase the volume and speed of the air, which is fed to the engine, giving it 3 times more air than standard air intakes. Secret Weapon Intake Systems increase horsepower by combining Weapon-R's patented Dual Air Flow Technology and denser cold air with the cold air induction. Each system is Dyno Tuned for maximum performance and optimal air to fuel ratios. The smooth polished design and Mandrel Bent T6 Aluminum tubing designed by Weapon-R provides the intake with an attractive look that fits the application right. Weapon-R Intakes are equipped with all hoses and clamps required for mounting that lets you get started on your speed quest immediately.
And now the Prozen intake which a lot of members on the forumz are running.
These intakes are the cheapest but come with a K&N filter on the end.
Here is a link to the sellers ebay site
http://motors.shop.ebay.com/prozenmotorsports/m.html
Finally, the Spectre intake is a 'do it yourself' intake in that it is made up of individual pieces you buy and put together to make an intake to fit your car. The price and construction of it can vary quite a bit since there is no single way to build it.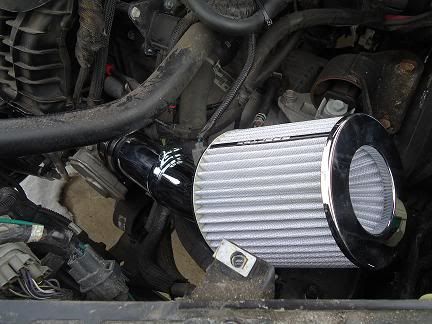 The Spectre is a good option if you are looking for something unique because you can create an intake to fit any routing and design you want. The downside is because it is made of individual pieces it is less 'secure' than the other intakes that are solid pipe designs and can be prone to coming apart after driving for a while because of road and engine vibration. That's why solid bracing for the Spectre intakes is very important. The pipe comes in chome plated plastic and polished aluminum. The aluminum pipe setup is sturdier than the the plastic, but also more expensive.
I hope this helps some people out in their decision to buy a CAI. Everyone try to post your opinions and suggestions on here!!